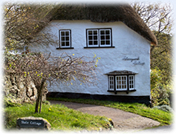 Sometimes there's a problem that appears insurmountable, but with a little lateral thought a solution usually appears. To help with this type of work there are a variety of possibilities so commission some research and solve your family history dilemma.
Commissioned Research: £20 per hour and can include:
Look Ups
Need someone to go to the Record Office to find a document and check the details - living in the South West there are several that I can visit for you.
Site Photography
Want a photo of a church, grave, home or building where your family lived in the south west - just say where.
Tuition and Advice
Stuck on a particular problem or want help starting? I am here to help.
Library or Internet Searches
Many local books are available for research in the main town libraries such as Plymouth - I can visit and search for you or help with internet searches.
Certificate Ordering
Haven´t the time for this or not sure how to go about it? Take the stress away and let me help.
DNA Explanation
The up and coming area of ancestral research taking you back to your roots. Let me explain how it works and what it will tell you in easy to understand phrases.
Because of the uncertain nature of historical records there are no guarantees.